WEEK TWO REPORT:
Brother Hezekiah was weighed in for the second time at Park City in East Rutherford, NJ on Friday, October 7th. Hezekiah reported having exercised all week, eating lighter, and sweating a lot. We played a wedding tonight (October 9th) where Hezekiah declined eating the first and second course, and dessert. He also was not witnessed eating during the cocktail hour by anyone in the band. That's willpower for you! So, how did he fare at his weigh in?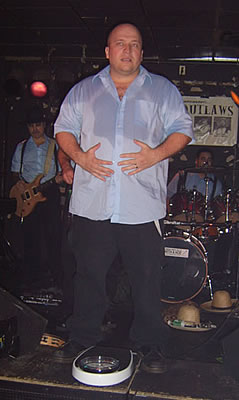 And his weight was...
(hold your mouse over the scale to find out)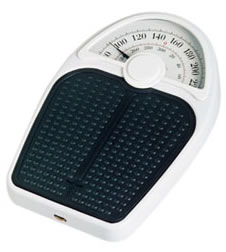 SIX POUNDS!! That is right, folks! Hezekiah dropped a whopping SIX POUNDS in his first week. Shall the weight loss continue? Be at The Nutty Irishman in Farmingdale, NY this Friday, October 14th to find out!
Click here for the next report.